Sweet Dreams 100% Cotton Stuffing
Such Stuff as Dreams are made of


Sweet Dreams is a 100% cotton stuffing made of soft dreamy layers of fluffy natural cotton. A crafters dream for stuffing, pot holders, pillows, padding, upholstery, bumper pads and trapunto.
100% Natural Cotton Stuffing is specially processed to give you softness and the best resiliency available in cotton stuffing. Sweet Dreams is 18" wide and 120" long when unrolled. For easy separation and easy cutting - protective paper divides the soft layers of cotton. Sweet Dreams is a natural way to fill your favorite projects.
For projects such as potholders and padding, simply unroll the soft layers, cut to size and shape, and layer to desired thickness. For projects that you will machine wash and dry, stitches may be up to 2 1/2" apart.
For stuffing or filling crafts and figures (dolls, bears, etc.) pull apart the desired amount of Sweet Dreams to fill your favorite project. Fill loosely for a naturally soft cuddly effect or pack tightly for firmness. We recommend surface washing completed projects.
Sweet Dreams is 18" wide - a popular pillow width. Just unroll Sweet Dreams and remove the protective paper, then re-roll into any pillow shape. For smaller pillows, cut away excess cotton; for larger pillows add another package of Sweet Dreams. Surface wash your fine pillows made with Sweet Dreams.
Use Sweet Dreams for padding and upholstery or layer over foam cushion and cover with fabric.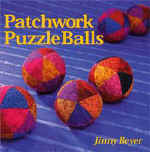 Sweet Dreams Cotton Stuffing is the perfect stuffing for Jinny Beyers Patchwork Puzzle Balls. Have a ball making these lovely Patchwork Puzzle Balls. So many uses and possibilities - fun and creative. Ask for the Patchwork Puzzle Ball Book, Puzzle Ball Templates, and Sweet Dreams Cotton Stuffing at your local specialty quilt shop or visit

Jinny Beyer's website

or call Jinny Beyer Studio Toll Free 866-759-7373 and let your imagination soar!